Forget Memory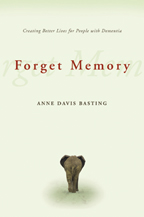 This book is a wonderful way to look at the effects of Alzheimer's. And yes, there is a wonderful way to look at it. After the cherry pie, I read through this again, and felt confidence in how I am with my Mom.
Trust me, I had my hand in the toilet for an hour trying to get a urine sample from Peggy. And it was okay. It was probably one of the silliest times I have ever had in my life. I brought new clothes for Peggy over and stopped at the library and got videos and books for the girls and we went over for the afternoon. Because I really wanted to accomplish this "tinkle task"again, (yes, this is not the first time I had to do this.) It's hard enough to get my girls to go on the potty. But I do, so I was up for the challenge! Anyway, the girls kept coming in the bathroom giving her dixie cups of water and doing a fashion show of Nana's new clothes, dragging them on the floor and giggling like crazy, as I constantly had to explain to my mother why I had my hand in the toilet and what tinkle was, and.....it makes me laugh, not cry, and that's okay.
I'm sure this is the most ridiculous review of a very helpful book, but please add this to your collection if you are researching or curious about the disease.
p.s. no tinkle.....